In an ordinary shampoo, you can find sodium lauryl sulphate (SLS). This is a surfactant, which strips our hair when we wash it. With a little more research, it is easy to see that the shampoos we use are not good for our health. It is also a significant plastic pollutant. With more than 550 million plastic bottles thrown away every year. So this is a major problem, spotted by a young French team that has found a solution. Umaï!
So we went to discover this project. Here is an interview with Célia Favre, co-founder of Umaï. We let you discover what is behind this famous solid shampoo!
Hello Celia, thank you very much for your time. We imagine that the whole Umaï team must be quite busy given the success you're having, so we won't bother you for too long.
For those who don't know you, can you explain who is behind the shampoo that wants to save the planet? How did you meet? What are your respective jobs?
First of all, you need to know that there are 4 of us in the team: Sara, Angéline, Emeric and myself. Angéline and I have been friends for almost 10 years. We both come from Annecy in Haute-Savoie. As for Sara and Emeric, we met by chance through the Linkedin network. We shared the same values of ecology and the desire to make things happen! This is what quickly brought us together, in addition to our very complementary skills.
Sara and Angéline form the research and development team. Both engineers in cosmetic formulation, they work in our laboratory in Montargis. They are the ones who create the formulas from A to Z. They also take care of sourcing our raw materials (always selected as close as possible), managing production (only 20km from the lab) and the regulatory part.
Emeric is a specialist in sustainable development. He is in charge of monitoring and research in this field, finances and supports me on the commercial side. Finally, I have a business school background. I am in charge of marketing in the broadest sense. I'm in charge of the product concept, all the communication, the visual identity, the events and a little bit of the logistics too!
And when did you start working on Umaï? Why did you choose solid shampoo as your first product?
We started working on the Umaï project in autumn 2018. But we all went full time into it in January 2019. What made us choose solid shampoo as our first product was that we really saw an opportunity. Mainly to drastically reduce the use of plastic packaging.
Indeed, shampoo is a product that we all use. All our lives and in large quantities. Which means a lot of plastic bottles are thrown away. And above all because we were convinced that it was possible to make a solid shampoo that was as ecological and zero waste as it was pleasant to use. Not least because we didn't want to have to make any concessions! We are convinced that this is a real practical alternative that consumers will enjoy using. And that's really important! Because if we want things to change, everyone has to be convinced and enjoy using these more responsible products.
By the way, what does Umaï mean?
Umaï stands for Une Marque A Impact. We chose this name because people often talk about products with 0 impact in the world of ecology. However, what we really want to do is not only to have no impact on the planet, but to have a positive impact. A positive impact on health (no harmful ingredients in our shampoo), on the planet (no plastic bottles) but also on the cosmetics industry in general by trying to make things move in the right direction more quickly!
By being transparent about the origin of all our raw materials we hope to raise consumer awareness and force the big brands to be transparent as well. We hope that if more brands choose to source from France, the increase in volumes will also help lower prices to make responsible consumption more accessible!
Speaking of your raw materials, how did you manage to find all the natural and regional ingredients?
A lot of perseverance I would say… At first when Sara and Angéline started to contact suppliers of raw materials nobody understood why we only wanted European ingredients. We explained to them that it was to reduce the carbon impact of transport; but it's true that this approach is far from being the norm in the industry today. More importance is given to the rarity of an ingredient or to its exceptional properties in order to tell a beautiful; exotic story about the product and to sell it! We didn't focus on this marketing aspect but on the contrary we tried to make our choices with as much common sense as possible. We said to ourselves: why go and find 30 ingredients at the end of the world and then assemble them in France to make a product made in France?
Local products
Umaï also chose to reduce our margins because; of course, more local ingredients are more expensive than ingredients made in very large quantities in Asia… But for the moment, we preferred to focus on quality, sourcing our raw materials as close as possible and reducing our carbon footprint rather than marketing campaigns, for example. We are convinced that if we do things in a way that is beneficial to the greatest number of people and to our planet, and if we explain it to consumers, they will follow us.
Despite this, we still have a lot of work to do, because it's still very difficult, for example we have an ingredient in our shampoo that is made in the United States (our gentle cleansing agent) because there is currently no substitute in Europe. Why is this? Because these solid washing agents are much more expensive to develop than liquid washing agents. Manufacturers are struggling to develop them because the demand from large groups is not keeping up… However, we are continuing our research and hope soon to have a 100% European composition. That's what it means to make things happen!
You offer the shampoo with biodegradable packaging. Can you tell us more about this choice?
When we started thinking about the Umaï project, we didn't want to be just another cosmetics brand that creates more and more new products and therefore more and more waste and packaging. We wanted to try to go as far as possible in our approach and find a packaging that would have a positive impact: this is done with our small recycled and seeded paper. It's a paper that contains small wildflower seeds. When you don't need it anymore, you just have to put it in some soil and water it so that it gives way to little flowers that will in turn capture CO2: the loop is closed!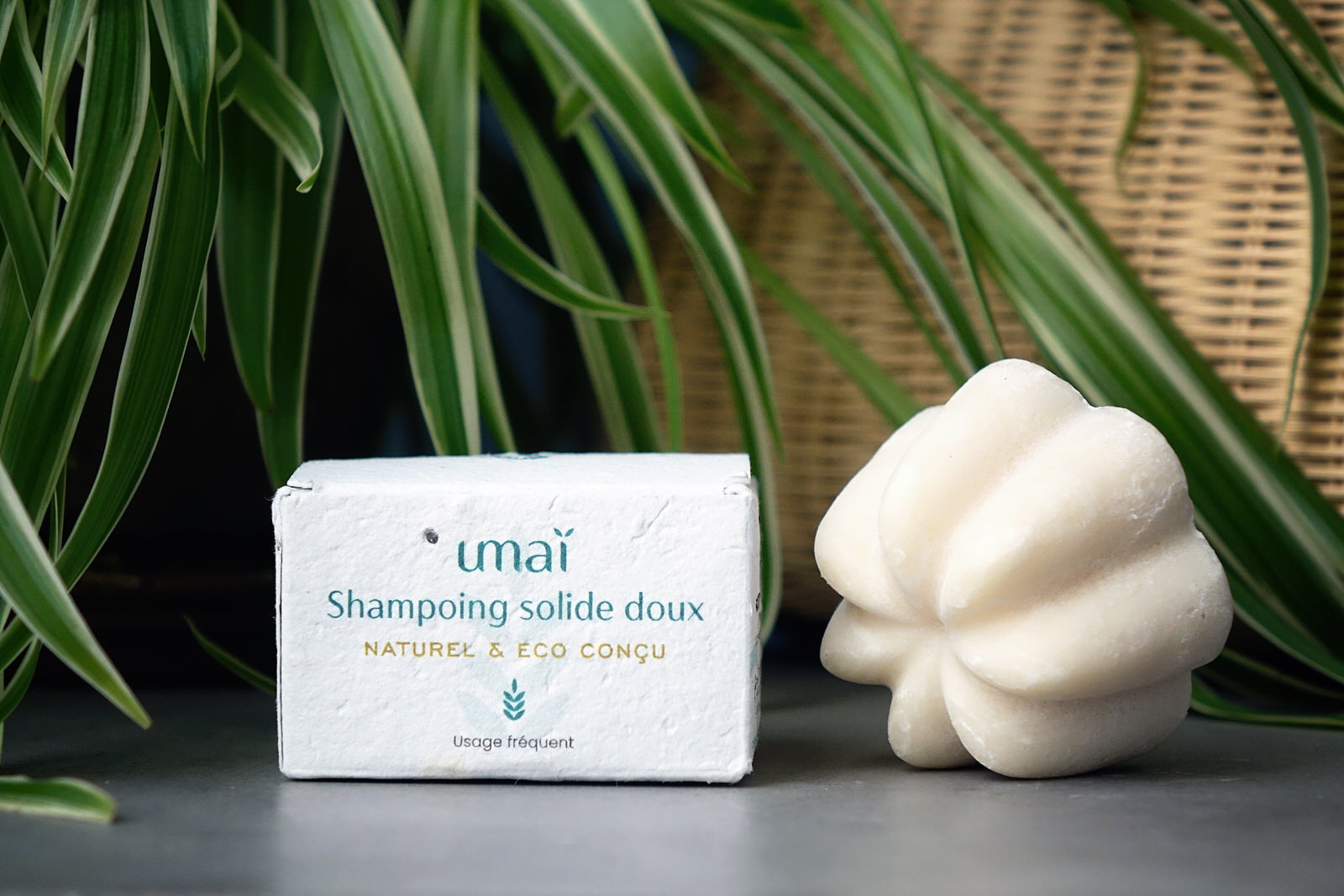 This shampoo is currently in pre-sale on the Ulule website. I think you have more than 6,000 pre-sales while you had a target of 100. How do you explain this figure?
We launched our campaign with a video explaining our approach and our convictions. We really wrote this video with all our heart and we had a strong message to put across. I think we wanted to do the "right thing" from A to Z. And above all with as much common sense as possible, to say that responsible cosmetics is not only for women; men represent half of the planet, we count on them to help us save it!
And above all to say that today, with a lot of willpower, it is possible to create products that are as good for the planet as they are pleasant to use. And finally, that consumers are ready to change if we offer them convincing solutions!
All this by simply being ourselves. I think that spoke to the people who shared our video very widely! Thanks to this, there are more than 800,000 views of the video in just 15 days!
What do you foresee in the medium or long term for Umaï?
I hope that this is just the beginning of the Umaï adventure. Today, many people are ready to change their habits to consume better; we hope to accompany them in this change! We would like to quickly launch other products to continue emptying our bathroom bins; to join forces with environmental protection associations to play an even more global role and, above all, to continue innovating by developing sustainable materials for our packaging!
Thank you Célia for taking the time to answer us. Thank you also to the whole Umaï team for investing in offering us the best, both for us and for the planet!
And for all our readers, concerned about the environment and their health, here is the link to pre-order this shampoo: https://fr.ulule.com/umai-natural/ !