Oil, fashion and transport. Second place behind agriculture. On both catwalks, fashion has a prominent place. But far from the fairytale world of the catwalk, these catwalks are rather the catwalks of shame. Indeed, the fashion industry is, with 1.2 billion tons of CO2 emitted per year, the most polluting after the oil industry. Worse still, according to ADEME; it is expected to increase its carbon footprint sixfold and account for 25% of the planet's total greenhouse gas emissions by 2050! Clear Fashion said stop to this.
The impact of fashion in the environment
On the other hand, fashion is second only to agriculture in terms of water consumption; using more than 4% of the world's drinking water. For example, the production of a single T-shirt requires the equivalent of 70 showers on average! But how can we adopt an eco-responsible wardrobe? In the article Green fashion, the only trend that goes through the seasons, we talked about the Clear Fashion project, which will revolutionise the way you shop. Well, today we have the chance to interview Aran, communication officer for the French start-up…
Read also: Green fashion, the only trend that goes through the seasons
Before starting the interview, a quick reminder of the Clear Fashion principle
What are Clear Fashion's rating criteria?
An intuitive and personalised experience
Clear Fashion: Ready to get naked?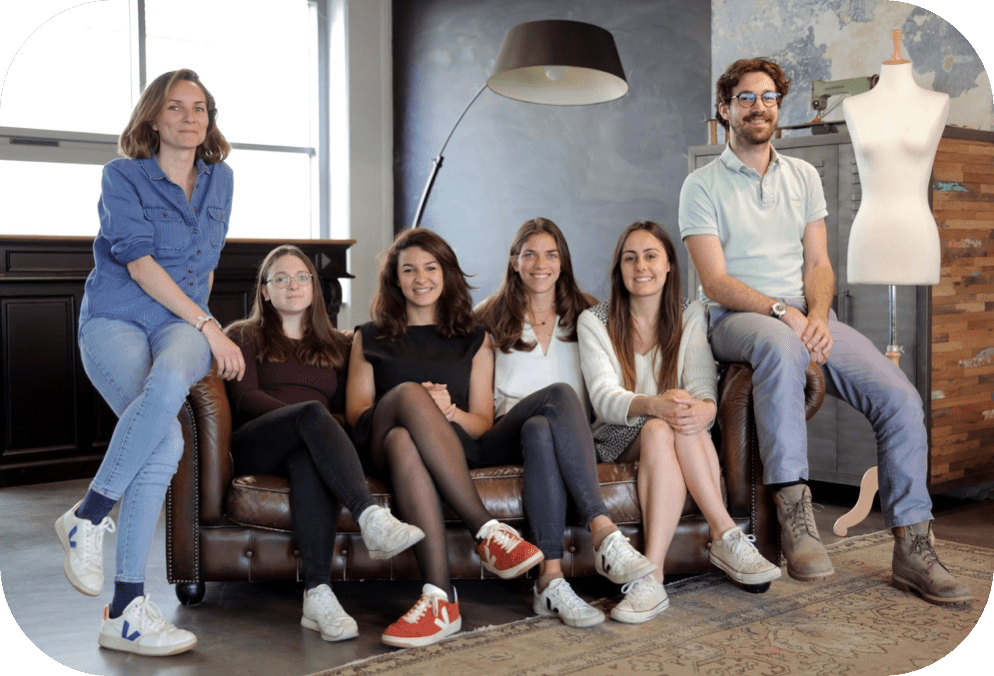 Hello Aran, thank you for taking the time to introduce yourself to our community. Can you please tell us who the Clear Fashion team is made up of?
We are a small team! There are the two founders, Rym and Marguerite; a developer, a communication officer, a person who manages the social networks and someone who deals with the rating system. We are incubated at Look Fordward by Showroomprivé and our offices are in Saint Denis.
How did you come up with the idea of launching Clear Fashion? And for what purpose?
L'idée de l'app est venue de Rym et Marguerite, deux ingénieures agronomes. Elles ont fondé Clear Fashion, auparavant nommée Clothparency, pour apporter de la transparence dans le secteur de la mode.
Faced with the opacity of some brands as to how their clothes are made, how do you provide relevant information to your users?
If brands don't communicate and are not transparent, they will be less well rated. We have a bias, when we lack information from a brand, it is a risk. In fact, we consider that not having information is a risk for brands. We think that a brand that doesn't have information is probably producing in a risky way. We have created an incentive system for brands to provide information.
Fashion Week started on Monday in Paris. What do you think of the behaviour of the haute couture houses with regard to contemporary ecological issues?
In the luxury sector, we have few luxury brands listed on the application, we hope that brands can become more transparent by participating. In the luxury industry there is a lot of secrecy and confidentiality: we believe that this is in opposition to transparency. And transparency is still far from their brand image. It is therefore difficult to have a perception of the real commitments of luxury brands.
What do you think of applications like Vinted, which offers second-hand clothes on an online platform? Do you think they are a good way to fight against fast fashion and the pollution it generates or, on the contrary, an incentive to compulsive buying and over-consumption of clothes?
We believe that the best way to consume responsibly is to buy second hand before buying new. However, we do not know the figures for consumption in the reuse sector.
On 23 August 2019, 30 major groups signed a "fashion pact" in which the brands commit to "actions compatible with the 1.5°C global warming trajectory, via a "just transition" to achieve zero net CO2 emissions by 2050″. However, some NGOs denounce an agreement based on voluntary and non-binding commitments, which could lead to the failure to sanction behaviour that does not comply with this promise. What is your opinion on this?
We are waiting to see that the big groups take a position and see if their commitments are in line with their practices. But for the moment their objectives are very long term… We hope that they will commit themselves through concrete measures!
We recently learned that Intermarché will modify the recipe of nearly 900 of its products to comply with the expectations of the 11 million French users of Yuka. Do you think it's possible that such progress could happen in the clothing sector?
We've just started, we're going to study this. What we have noticed in the fashion sector is that Clear Fashion has enabled the players to take stock, to negotiate audits and to recruit people, particularly in the CSR departments, so yes, it has an impact!
What future for our shopping?
Dubbed "the Yuka of fashion", an app that works on the same principle for food and cosmetics, Clear Fashion wants to empower our purchases. By offering more transparency to our clothing buying choices, the app allows us to have a better overview of our wardrobe while pushing brands to comply with these new expectations. Indeed, Yuka's more than 11 million users have, for example, prompted Intermarché to change the recipe of more than 900 of its products to be better rated on the app. We hope that a similar awareness will emerge in the fashion sector!